Go back to news
International Women's Day
Posted on: Mar 9, 2018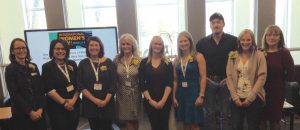 On March 8th 2018, the Mihalcheon School of Management hosted a special event for  International Women's Day. Dr. Alison Yacyshyn, Interim Dean and Dr. Theresia Williams, Concordia Instructor (LDR 402A- Leadership Psychology) invited Dan Bateman's UFDN199B, University Foundations course and the entire Concordia community to listen to four talented, award winning local women who are entrepreneurial leaders share their diverse journeys of success, hard work and leadership in the Arnold Guebert Library. The distinguished guests included:
Jacquelyn Cardinal:  Co-Founder and Director of Experience, Naheyawin
Giselle Courteau:   Co-Owner and Founder of Duchess Bake Shop
Heidi Fedoruk:  Co-Owner of Leading Edge Physiotherapy
Larissa Whiting:  Owner of LAHARI Yoga
The leaders encouraged individuals to follow their passion, have realistic expectations and redefine what success means. It is hoped that the International Woman's Day celebration becomes an annual event at Concordia.