Go back to news
International Travel: European Influences In Psychology
Posted on: Dec 10, 2019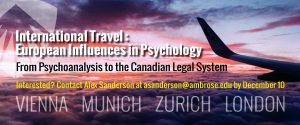 From Psychoanalysis to the Canadian Legal System
Dr. Andrew M. Haag
Forensic Psychologist – Alberta Hospital Edmonton, Director of Forensic Research – Northern Zone, AHS
Dr. Haag will be running a course called "European Influences In Psychology" through Ambrose University (Calgary) this coming spring that is open to CUE students (earn 3 credits for a 3xx psychology course).
This course will allow students to gain insight into:
(1) the origins of psychology (psychoanalysis),
(2) the psychology of the Third Reich, and
(3) the origins of the Canadian 'Not Criminally Responsible' law.
The class will run during the last two weeks of May 2020 and will have stops in Vienna, Munich, Zurich, and London.
Dr. Haag will hold an information session for anyone who is interested (i.e., faculty/staff or students) this Friday via the web.
This information session will run on December 13, 2019 from 13:00 to 13:30. 
There will be an overview of the course, the proposed travel itinerary, and there will be a chance to ask questions. This session will be video-recorded and a link will be made available for people who might not be able to join us for the session on December 13, 2019.