Go back to news
Interim Dean of Graduate Studies—Please welcome Dr. Ramses Ilarraza!
Posted on: Aug 27, 2021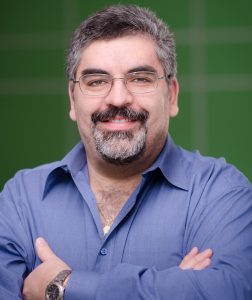 Given Dr. Marinova's recent return to her full-time faculty position within the Faculty of Science, Academic Administration announces a change in personnel.
We are very pleased to announce that Dr. Ramses Illaraza has accepted the role of Interim Dean of Graduate Studies (alongside his current role as Assistant Vice-President, Research and Faculty Development), effective immediately through June 2022. Dr. Ilarraza holds a Bachelor's in Biology; Masters and PhD degrees in Genetics and Molecular Biology, and had six years of postdoctoral fellowships in Immunology, at the University of Alberta and the University of Manitoba. Before joining CUE in 2019, based on his 25+ years of biomedical lab research he had published 20 original research articles in leading journals, along with two book chapters. He has co-authored two high school science textbooks, one of which was adopted as an Official National Textbook by the Government of Mexico, and has teaching experience from high school to graduate studies. One of his novel lines of research has been on respiratory health, airway viruses and the immune system.
As a mentor, he has actively engaged in the training of the new generations of researchers, having directly supervised in their research projects a total of eight undergraduate and four graduate students (two MSc and two PhD), as well as three Postdoctoral Fellows and one Research Technician.
Please join us in welcoming Dr. Ramses Ilarraza to his new leadership role!