Go back to news
Innovation Launchpad@CUE is now live!
Posted on: Feb 11, 2021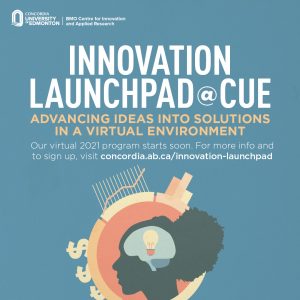 Innovation Launchpad is back! Bring your budding entrepreneurial ideas to life with this program that provides mentorship, helps you gain real-world experience, and builds your network. 
Register Today!
Register here. Registration closes on February 17, 2021.
Read more about Innovation Launchpad here.
Advancing Ideas Into Solutions In A Virtual Environment
The ongoing COVID-19 pandemic has changed the way we learn, teach, interact, and share information. Educators and learners have been forced to pivot and adapt to a virtual environment, and have demonstrated tremendous resiliency.
New Streamlined Format
To best support our students and foster a sense of entrepreneurship, we have modified our annual Innovation Launchpad @ CUE program.
Our virtual 2021 program has two components: an Innovation Sprint and an Innovation Showcase. These components have been intentionally designed to provide students with inspiration and support, and equip them with the tools and knowledge needed to pursue and advance their ideas.
Innovation Sprint:
A five-day program comprising virtual, action-based learning modules, the Innovation Sprint will challenge participants to ask questions, think critically, and build a strong foundation to bring their ideas to life. A facilitator will lead daily modules and guide participants through workshops to gain the skills, knowledge, and confidence needed to brainstorm concepts, prototype solutions, and conduct end-user testing and interviews. Upon completion of the structured modules, the facilitator will be available to answer questions, and provide clarifications and tips to participants.
Innovation Showcase:
Following the Innovation Sprint, participants will have five days to implement learnings and prepare a 5 minute presentation to be shared at our annual Innovation Launchpad Showcase. At the showcase, each participant will present their idea, progress, and next steps to a panel of expert judges from across Edmonton's innovation and entrepreneurship community, and prizes will be awarded.
Questions?
Email questions related to this program to:
Isha Katyal, Director, Innovation and Industry at isha.katyal@concordia.ab.ca or
Mike Wade, Director, CAAI at mike.wade@concordia.ab.ca