Go back to news
Help End Bullying – Pink Shirt Day February 26th
Posted on: Feb 25, 2020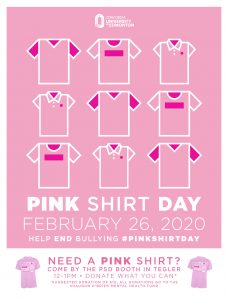 Wear your pink shirt on February 26th to help end bullying. 
Don't have a pink shirt?  Come by the Pink Shirt Day booth in Tegler from      12 – 1 pm on the 26th.  Shirts will be available by donation. 
All donations go to the Shaughn O'Brien Mental Health Fund.
Click here for the event poster!