Go back to news
GPRC Wolves 'Eat Up' Women's Volleyball
Posted on: Jan 23, 2017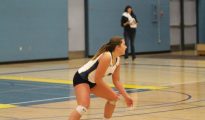 With one of the top teams in Canada coming to town this past weekend, the Thunder were in tough as they hosted the Wolves from Grande Prairie Regional College and the ladies from the north showed why they are the 8th-ranked team in the nation. In Saturday night's opening affair, the Thunder pushed the Wolves in all three sets until the 15-point mark and at that time made unforced errors and lost all three with scores of 25-15, 25-20 and 25-17. Julia Heupel was the Player of the Match for the Thunder.
In a very rare schedule anomaly, the second match was played Sunday afternoon and the ladies came out focused and led for the majority of the first set but we're unable to finish off the Wolves and ultimately lost 25-23. After that set the unforced errors continued in bunches and the team lost the next two sets 25-14 and 25-20, finishing the Wolves sweep of the weekend. Ryley Rizzoli was the 'Thunder of the Match'.
Coach Turner's comments: "We went up against a team that is gearing up for playoffs in a couple of weeks and although they weren't at their best, they were good enough to sweep us. We're trying to build a program at Concordia that will be consistent just like the Wolves are, year in and year out. We are not there yet and the main reason is our mental toughness. We have a tendency to play well for a certain amount of points and then ease up with our focus, for reasons I'm not sure of and it puts us behind each time. We need to learn to fight through that and show each other we will have success if we continue to build up our toughness in key areas of the game."
Things don't get any easier for the Thunder as they will now face another nationally ranked team (5th) in the King's Eagles. The first serve goes at 6 PM on Friday night at the RKAC.