Go back to news
First of its kind in Alberta! Earn Bachelor of Arts (French) International Double Degrees
Posted on: Jan 10, 2018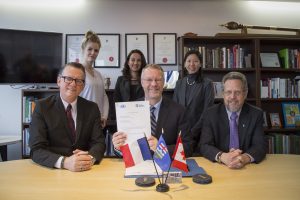 A new international double degrees program is the latest new offering at Concordia University of Edmonton. The new three-year program allows students to begin their Bachelor of Arts degree (French) at Concordia University of Edmonton, and complete their final year at Université de Bretagne – Sud in France.
This is an incredible new and unique opportunity for post-secondary students and is the first of its kind in Alberta!
Université de Bretagne – Sud president, Dr. Jean Peeters, enthuses, "This is a great achievement that opens up vistas for students enrolled in the programme. They will obtain double degrees and better understand both Canadian and French cultures."
Students will graduate with a Bachelor of Arts in French from Concordia University of Edmonton and their Licence Lettres Modernes from Université de Bretagne – Sud, as well as having perfected their language skills!
"Studying abroad is the best option to get a better fluency in the target language, to explore the local culture in a more meaningful way, and to make lifelong memories," stated Dr. Joanna Merkel, Assistant Professor, French, at Concordia, who is excited to see such an opportunity on offer. "I hope that our students will take the chance to study at UBS. It's located in a beautiful region of France, close to the coast, and rich in history."
Concordia has been working diligently with partner university, Université de Bretagne – Sud, over the past couple of years to make this a reality.  The program structure is innovative in Alberta, especially designed for students coming from immersions schools.
"The global and multicultural competencies acquired, as well as the formal qualifications, are immeasurable assets for the professional outlook of graduates," commented Dr. Manfred Zeuch, VP External Affairs and International Relations. "We are proud of our partnership with UBS, and this new step confirms and enhances Concordia's path on comprehensive internationalization and pre-eminency among smaller universities in Canada."
This is exciting news right on the heels of last month's announcement of Concordia's Bachelor of Management dual degrees program with BFSU in China!