Go back to news
Fee For Service Process – Reminders
Posted on: Aug 30, 2021
There has been some confusion recently on our Fee for Service Process and the paperwork involved with hiring out vendors. Here are some reminders on what is required:
This is the first required piece of information before new vendors are hired. This determines the relationship with CUE (incorporated, Independent Contractor, Employee) to ensure we are in compliance with CRA guidelines. This checklist would need to be filled out and signed by the vendor, the BCO, and finance before services begin.
*Ensure to fill out the expected fees to avoid any delays in the Finance approval process (exact amounts or estimates are acceptable).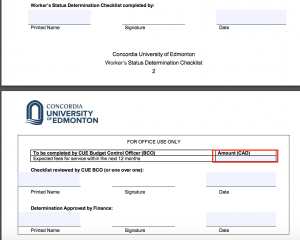 In addition, ensure that the selections on the checklist corresponds to the "Conclusion" at the bottom
E.g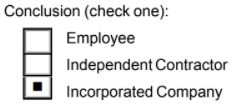 Once the checklist has been completed, a VSMF can be filled out by the vendor and sent to AP to be set up in our NXT system.
*Ensure the vendor provides a void cheque if they would like to be paid through their bank. If the bank information is filled out by the Vendor but no void cheque is attached, this Vendor will get paid by regular cheque.

Contracts (Independent Contractor Agreements & General Service Agreements)
As per section 1.1.3 of our Expenditure Procedure Services with total remuneration of $5,000 or over within a 12-month period or the expected term of the work would require an ICA (independent contractors) or GSA (Incorporations). This drafted contract would need to be requested from finance. Once requested, minor details would need to be filled out by the department, sent to the vendor for signing, signed by the BCO, and send to finance for final review and approval.
OTHER FRIENDLY REMINDERS:
For one-time payments under $500 to ONLY individuals that are non-GST registrants a Payment Request Form would be the only thing required. Refer to section 1.1.1 in our Expenditure Procedure for more information.
IMPORTANT: If paperwork is missing by the time Invoices come through Chrome River for Finance review, approval may be delayed until information is retrieved.
OTHER FEE FOR SERVICE RESOURCES:
Independent Contractor Flow Chart (non-GST Registrant)
GST Registrant or Incorporation Flow Chart