Go back to news
FC Edmonton and CUE partner up in a mutual agreement that benefits soccer players
Posted on: Jul 8, 2019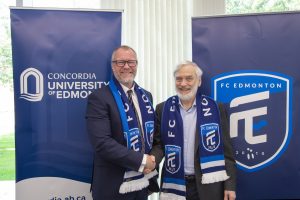 FC Edmonton and Concordia University of Edmonton are pleased to announce a mutual partnership, which will present FC Edmonton players, from both the senior and academy teams, with the opportunity to pursue educational opportunities at the post-secondary institution.
Concordia University of Edmonton will also be the headquarters for FC Edmonton's free summer clinics, which will run through July and August.
"It's an exciting time for FC Edmonton and our fans as we see our club earning success on and off the pitch," FC Edmonton General Manager Jay Ball said. "As we look toward the future, we will continue to collaborate with significant partners like Concordia, who have a long-standing tradition of academic excellence and community stewardship in our community. Going forward together and finding news way to grow the game will only fuel the excitement of soccer and unify our soccer community."
FC Edmonton takes pride in stewarding a professional soccer club in its hometown. It is especially proud in the young Edmontonians that join the club and evolve from teenage hopefuls into mature pros.
"This is a great moment!" Dr. Manfred Zeuch, VP External Affairs & International Relations said. "Concordia has good outreach in the community in terms of academics, culture, sport and wellness. FC Edmonton is a strong member of the Canadian Premier League (CPL) and is a pillar in our community. We will see this cooperation bear fruits in educational opportunities both for the club's players as well as for supporting development of a healthy lifestyle for youth."
Concordia University of Edmonton is welcoming, engaged, and committed to innovation and excellence in education, research, creative activity and community partnerships. It dares to be different and draws on its diversity to transform the individual, strengthen society and enrich the world. The university is a major advocate for the growth and promotion of local sports organizations and local athletes.