Go back to events
Student Women Entrepreneurship Panel Discussion
–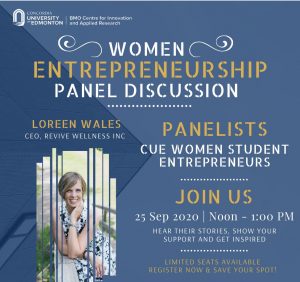 BMO-Centre for Innovation and Applied Research presents the student women entrepreneur panel discussion as part of the Women in Entrepreneurship Week celebration (Sep 21-25).
This session will provide an opportunity for CUE women student entrepreneurs to share their stories of struggles, wins, and obstacles as they build their business.
The session will be moderated by Loreen Wales, CEO of Revive Wellness Inc., and will feature the following CUE student entrepreneurs as panelists:
1. Doreen Kumar, BSc. (Environmental Sciences), Founder of Earth La Garden, a sustainable waste management company
2. Korah Anderson, BSc. (Environmental Sciences), Co-founder of Hydrohope Farms, an innovative farming company
3. Divya Garg, (MISSM), Founder of Livezzy, a platform to connect service providers with the local community
The panelists are 2019-2020 graduates of the Innovation Launchpad @CUE program.
Date and time: 25 Sep 2020; 12-1 pm
Virtual meeting link: Google Meet
Agenda:
12-12:15pm: Introduction to the session, moderators and panelists
12:15-12:50pm: Discussion on topics such as (10 minutes per topic)
1) women entrepreneur traits
2) barriers to women entrepreneurs
3) power of building a network
4) wellprenuer (maintaining entrepreneur wellness and achieving work/life balance)
12:50-1pm: Q&A and event reflections
Register here!
We look forward to seeing you there.
Read more about women in entrepreneurship week celebration and sign up for other events here!
In case of questions, please reach out to Dr. Isha Katyal, Director, Industry and Innovation at isha.katyal@concordia.ab.ca.
Release consent:
Please note that the session will be recorded and posted on the Innovation Launchpad webpage as well. By signing up for the event, you hereby consent and authorize Concordia University of Edmonton to use your testimonials/comments and any photographs, video or audio recordings taken of you for: internal and external newsletters; news releases; journalist requests; and Concordia University of Edmonton promotional materials, including the World Wide Web, printed documents, audio tapes, video tapes, CD-ROMs, posters and in any and all other media, whether now known or hereafter existing, controlled by Concordia University of Edmonton. You will make no monetary or other claim against Concordia University of Edmonton for the use of the above mentioned media.