Go back to news
Eagles Sweep Thunder Women's Volleyball
Posted on: Nov 21, 2016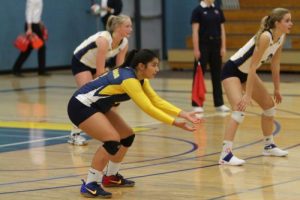 This past weekend, Women's Volleyball faced 2015-16 ACAC Silver Medalist King's University Eagles. In Friday's match, the team struggled with their first contact in all aspects of the game and the Eagles capitalized on this and won in straight sets.
In Saturday's match, the ladies came out very flat in the first set and lost but after the changeover played some good side-out volleyball in the second set only to lose their focus in the middle of the set. The Eagles jumped all over them and pulled away for the win. In the third set the same thing happened and the Eagles won again, taking the match in straight sets.
Coach Turner's comments from weekend – "We went up against a good team who will take advantage of unforced errors and score points in bunches and that is what happened. I'm not sure they're as good as the ladies think they are and we need to believe that we can beat any team in this league. We need to become a tougher team to compete against and I take full responsibility for that not happening. We will work on that this week and be ready for the Keyano Huskies to close out the first half."
The home double-header will kick off Friday night at 6 PM at the RKAC with the Saturday afternoon tilt going at 1 PM.