Go back to news
Dr. Tolly Bradford awarded SSHRC Grant for Hudson's Bay Company Research
Posted on: Nov 15, 2017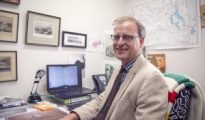 Congratulations to Concordia University of Edmonton researcher
Dr. Tolly Bradford, Associate Professor of History.
He has been awarded a Social Sciences and Humanities Research Council (SSHRC) Insight Development Grant  worth approximately  $40,000  to advance  his research project  entitled
Imperial Networks and the Reorganization of the Hudson's Bay Company, 1809-1816. 
This project coincides with the 350th anniversary of the HBC in 2020.  
Dr. Tolly Bradford, along with co-investigator Dr. Richard Connors of the University of Ottawa, will examine the global dimensions of Canada's oldest corporation, the Hudson's Bay Company (HBC). Traditionally, the Hudson's Bay Company's historical role has been depicted as that of a benign Canadian institution concerned only with local affairs related to the fur trade. This work explores the HBC in an international context.
Tolly's research examines how the HBC was in fact re-shaped by events and patterns that were rippling across the British empire in the early nineteenth century, including most especially the slavery system in the Caribbean, the East India Company's expansion in Asia, and the growing ideas of cultural assimilation taking root in Britain.
By linking the HBC – although in complex and sometimes unexpected ways – with these important and infamous episodes of British imperialism, the project offers a novel and somewhat problematic perspective on what is often considered to be Canada's most iconic commercial institution. 
This morning at an event at Concordia University in Montreal, the Honourable Kirsty Duncan, Canada's Minister of Science announced more than $265 million in funding for over 3,300 social sciences and humanities research projects across Canada.
The university research investment is being made through the Social Sciences and Humanities Research Council (SSHRC) Partnerships, Insight and Talent programs. SSHRC is the federal research funding agency that promotes and supports university-based research and research training in the humanities and social sciences. 
"I want to commend the grant and scholarships recipients whose tireless efforts help us better understand our world and our relationships with each other," the minister said. "Our government is proud to support these talented researchers and scholars who are pushing the boundaries of knowledge to the benefit of Canadians and our growing middle class."
Ted Hewitt, President of SSHRC noted the importance of this announcement. "SSHRC-funded scholars and researchers can provide guidance on important changes that are affecting society, he said at the event. "Developing a vibrant and long-term culture of innovation in Canada is essential to building a bold and bright future for all Canadians."
SSHRC's Insight and Insight Development grant programs for faculty researchers support and foster excellence in social sciences and humanities research. Concordia University of Edmonton faculty members are actively engaged in research that creates social, economic, and community impacts that improve the well-being of Canadians across the nation.
Tolly Bradford's success on the national stage is a reflection of the growing research culture at CUE and of his dedication to research excellence.
Research at CUE is also supported by the Research Support Fund, a tri-agency initiative that assists Canadian post-secondary institutions with costs associated with managing research funded by the federal research granting agencies. Concordia University of Edmonton acknowledges the value of this support and appreciates this ongoing research investment.