Go back to news
Discover Concordia at our Virtual Info Night | March 11
Posted on: Feb 26, 2021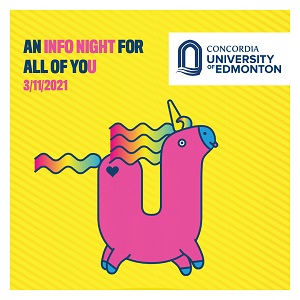 Thursday, March 11, 2021 | 5:00 pm to 7:30 pm
Think Open House on a smaller scale. 
We have invited anyone interested in finding out more about Concordia to attend our virtual event.  Admissions advisors will be on hand to assist with the online application and the fee will be waived! (for domestic high school applicants only)
New students who are planning to attend this Fall are also encouraged to attend to talk to the faculty and registrar's staff.
There will be a virtual booth fair with the faculties, Student Life & Learning and Financial Aid & Awards, presentations, and a virtual tour of campus.
Please encourage anyone interested in creating a big future at our small campus to pre-register online
If you have any questions or want to exhibit or volunteer, please contact Angela at angela.campbell@concordia.ab.ca