Go back to news
CUE's vision for comprehensive internationalization: the importance of international students
Posted on: Jan 27, 2020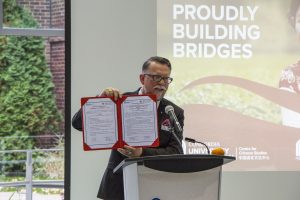 From day one, Dr. Manfred Zeuch, Vice-President, External Affairs & International Relations at Concordia University of Edmonton (CUE) understood the importance of implementing an international student program. Since 2012, Dr. Zeuch has focused his efforts on building relationships with universities around the world, and attracting students with different perspectives, cultures and opinions to CUE's classroom environments. "International students come to CUE not only to get an outstanding education, but also to be part of a community environment where inclusion and diversity are celebrated," said Dr. Zeuch. "Our international students enhance our schools, and allow for multiple voices to be heard."
Currently, roughly 18% of CUE's student population is comprised of international students. Being able to learn alongside others from around the world allows CUE's students to become informed, global citizens and ethical leaders. "I believe in the value of being connected with other people, and to having your mind open to the world," said Dr. Zeuch. Whether taking part in cultural association activities or making friends from other parts of the globe, having an international presence on campus provides opportunities for cross-cultural opportunities.
But CUE's goal for its international relations is even broader than encouraging diversity. From his first day as a member of CUE's leadership team, Dr. Zeuch had a comprehensive vision for internationalization, one that involves building bridges and fostering relationships with other universities, and even governments. Dr. Zeuch is the first to point out the need to connect with the broader community. When asked why a strong international presence is important, Dr. Zeuch replies that having a comprehensive international relations program is about mobility; exchange of information; collaborative research; and, industry connections. This organic, holistic approach to international partnerships has garnered CUE a solid international reputation founded in the knowledge that cultural exchange benefits students, staff and the broader community.
Today, with more than 80 formal partnerships in place, CUE is well-positioned to become a leader in international relations, both as a representative of Edmonton, and Alberta, but also within the communities its students call home.