Go back to news
CUE's AWC is home to burgeoning AI research cluster
Posted on: Feb 27, 2020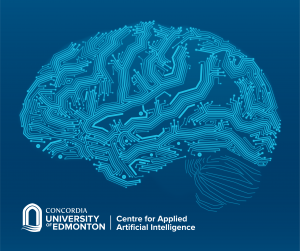 The Allan Wachowich Centre for Science, Research, and Innovation is a 30,000-square foot, $16.37 million facility that is home to some of Edmonton's most-promising research, innovation and artificial intelligence (AI) clusters—namely, the Concordia Centre for Applied Artificial Intelligence (CCA2I).
The student learning-oriented Centre for Applied Artificial Intelligence has two focuses:
Industry collaboration; and,
Weaving and embedding AI into everyday life at CUE.
Though in its early stages, the centre already has multiple AI projects on the go, including using AI to:
Improve CT scan imaging, while making it safer for patients; and,
Develop performance predictions to determine what education streams are the best fit for individual students.
These are two top-down projects that have been spearheaded by Ed Boraas, Chief Information Officer, and Chair of the AI research cluster at CUE. "What's incredible about this centre is that we have the capacity and the ability to create real-world applications that have real-world benefits," said Ed Boraas. "Because we are a smaller university, we are more flexible which allows us to move quickly." And it does.
Now, CUE's CT scan imaging project is ready for its next phase, looking for industry partners to help get it to market. That's where Mike Wade comes in. As Director for the centre, Mike Wade is working to use his expertise to connect the centre's projects to investors and partners.
Getting student ideas to market
In addition to these top-down projects, students are also at the forefront of AI idea incubation at CUE. That's where the Innovation Launchpad comes in. Innovation Launchpad@CUE mentors and supports student projects, then works to connect them with the business community to make their ideas come to life. In fact, on March 19, 2020, CUE will be hosting a showcase event to highlight student projects.
What was once a singular idea to develop AI projects has now become a fully-fledged, AI research cluster and idea incubation lab at the forefront of innovation in our province's capital city.
For more information, visit https://concordia.ab.ca/research/csri/.