Go back to news
CUE student Kelton Libich wins award for small business, YegRecycled
Posted on: May 17, 2022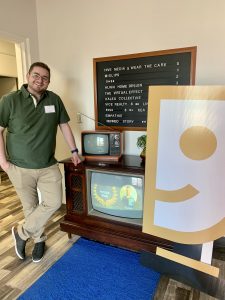 Kelton Libich, founder/owner of YegRecycled and a soon-to-be CUE graduate from the Faculty of Arts, has won the Goodwill Thrifting Hall of Fame – Vintage Finds award. Kelton is one of 5 winners from over a hundred nominees across the province. The first-ever Goodwill Thrifting Hall of Fame was held on May 6th at The Creative Hive, Edmonton. 
YegRecycled completed the Innovation Launchpad@CUE 2021-22 cohort and won the first prize at the 3rd annual Innovation Launchpad Showcase too!
Listen to Kelton's radio interview with "Daybreak Alberta with Paul Karchut" to learn more about why Kelton does what he does! Sneak peek – he has a 19th century dog piggy bank!
We can't wait to see all the success that's coming your way, Kelton! 
To learn more about YegRecycled, watch this video or find them on Instagram and Etsy