Go back to news
CUE Library Updates & Information for Instructors
Posted on: Jul 31, 2020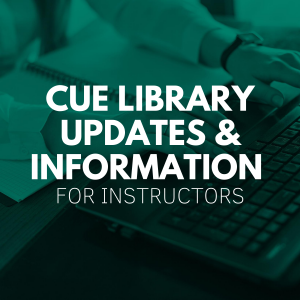 CUE Library will be reopening its doors on August 17, 2020, please watch for a forthcoming post on Inside CUE for details. 
We remain available to support your teaching needs virtually. When preparing for your classes you are invited to:
Check Your Links to Online Library Resources
It's best if you can check your links to CUE Library's electronic resources as soon as possible.
Guide: Sharing Links to Library Resources
Have Questions? Contact your Program's Liaison Librarian
Consult with CUE's Copyright Officer
Ensure your course materials are copyright compliant by emailing CUE's Copyright Officer as early in your course preparation process as possible.
Contact CUE's Copyright Officer, Lynette Toews-Neufeldt:
lynette.toews-neufeldt@concordia.ab.ca
Schedule an Online Library Instruction Session
Program liaison librarians are available to provide your students with valuable research instruction sessions for your online classes.
Schedule a Library Instruction Session Here
Online library instruction sessions can take various forms:
A live virtual demonstration (Google Hangouts, Zoom, etc.)
Sharing library instructional materials (PowerPoint/PDF slides etc.)
Request an eBook Licensing Check
Are you planning on posting a link to a CUE Library ebook in your Moodle? Let library staff check to see if the ebook's license can accomodate your class.
Request an licensing check by emailing: