Go back to news
CSRI – Another Milestone is Reached
Posted on: Jul 13, 2017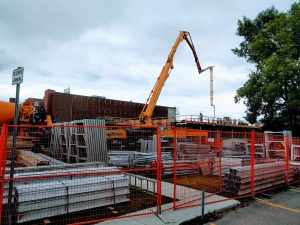 We reached an important milestone in the construction of our new Centre for Science Research and Innovation this week. Concrete was poured for the top floor!
This means that the external structure is nearing completion! Going forward, to view the progress of the building, you'll have to look higher to see emerging second floor pillars. Completion of the roof is expected to happen in early August.
The project is on schedule for the March 31, 2018 completion date and is going well.  Thanks to ongoing great work by the people at Delnor, Janusz Najfeldt and his design team, and the project managers at Cyrcorp!
Want to know more about the Centre for Science, Research and Innovation? Check the website for information and updates. You'll be able to see the artistic renderings of the exterior and interior of the building, as well as real-time drone footage of our campus.
Don't forget to follow the progress of the construction via our Facebook page too.