Go back to news
CRKN-Negotiated Transformative Open Access Agreement with SAGE Announced
Posted on: Feb 25, 2021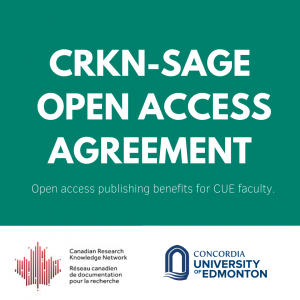 CUE Library is pleased to announce that the Canadian Research Knowledge Network (CRKN) has successfully negotiated a transformative open access agreement with SAGE. The agreement, valid until December 31st,  increases open access options for Canadian researchers. 
Authors affiliated with Concordia University of Edmonton, one of the sixty-nine institutions included in the agreement, may now publish their articles as open access with no Article Processing Charge (APC) in over 900 SAGE Choice journals (journals excluded from SAGE Choice are listed here). In addition, the agreement includes a 40% discount on APCs for eligible gold open access journals. 
To facilitate open access publishing, processing of the APC waiver for SAGE Choice journals and the discount for gold open access journals is done automatically via the SAGE Open Access Portal when corresponding authors identify themselves as affiliated with a participating CRKN institution. A CC BY 4.0 license will be applied to open access publications unless a different license is requested by the author.
For more information, please consult the following links:
If you have any questions, please do not hesitate to contact Victoria Eke, Scholarly Communications Librarian at victoria.eke@concordia.ab.ca.