Go back to news
COVID-19 Update: CUE's Vaccination Policy is now available
Posted on: Sep 22, 2021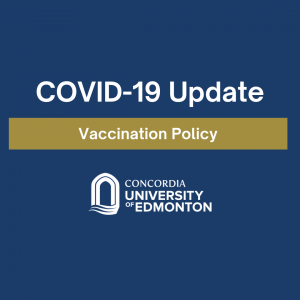 Concordia University of Edmonton (CUE) is requiring that its students, faculty, academic colleagues, staff, contractors, and volunteers be fully vaccinated against COVID-19 to protect the health and safety of our campus community.
CUE's COVID-19 Vaccination Policy has been approved by the President's Executive Council and our vaccination requirements will come into effect on October 4, 2021. The policy builds upon measures already announced in our Return to Campus Plan, including a mask mandate for all indoor public areas on campus. Members of the CUE community who do not comply with the policy are prohibited from attending campus. Those who attend campus and are not in compliance with the policy will be asked to leave immediately.
For more information, please visit the vaccination mandate section of our website. Members of the CUE community should be checking this section of the website frequently as it will be updated with important information and processes on an ongoing basis.
Vaccination is the safest and most effective way to prevent serious illness from COVID-19, and implementing our COVID-19 Vaccination Policy will allow us to return to in-person learning while keeping our community heathy and safe. To submit your proof of vaccination, click here.