Go back to news
Connected everything!
Posted on: Oct 21, 2020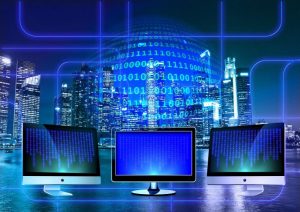 IT Seminar Series
The Faculty of Science and the BMO-Centre for Innovation and Applied Research proudly present "Connected Everything!", a session with Ravinder Shergill, principal architect at TELUS.
Join us!
When: Friday, October 30, 2020
Time: 4:00 pm
Where: Google Meet
Connected Everything!
In this seminar, Ravinder will talk about the next-generation infrastructure, and the role of the broadband network for the connectivity of IoT, underpinned by next-generation networks.
The Network is the foundation for connecting People, Machines and Things. We are at the cusp of realization of mass IoT solutions exploiting 5G and fiber-based connectivity. These and the cloud, softwarization and virtualization concepts are primed for the realization of the Smart Homes, Smart Communities/Cities, Smart Cars and Smart Venues etc. While the mass adoption maybe a foregone conclusion, challenges remain, ranging from the business models to the security and management of massive volumes of data. This talk will explore the next-generation infrastructure, and the role of the broadband network for the connectivity of IoT, underpinned by next-generation networks. It will look at how the network becomes the 'distributed' cloud, facilitating the next wave of services in the Smart 'X' domains.
About the Speaker
Ravinder Shergill is the Principal Technology Architect for Network and Architecture Strategy at TELUS. With his deep, 30+ year experience in networking, he helps set the strategy for next-generation architectures that promote industry ecosystem adoption, builds cross-segment synergies between different 'tenants' of the network.
He has served in a variety of lead roles at TELUS, including Software Defined Networking (SDN) Strategist, Converged Core Architect, Converged Edge Architect, IPv6 Enablement Program lead, CO Rationalization – defining the next generation topology in an all-Fiber and all-IP 'application centric' infrastructure.
As the Chief Architect, he is presently the technical prime for the Smart Cities Architecture and Strategy for TELUS. Having lead a highly converged architecture from the core of the network to the edge over the past decade+, now he's rationalizing Smart Cities paradigm leveraging Cloud, IOT, 5G, Virtualization and Softwarization trends, paving the way for a Smarter future.
About IT Seminar Speaker Series:
The speaker series aims to introduce CUE students and other interested individuals to emerging topics in IT, professional issues and responsibilities, employability skills, and careers in IT-related areas. 
The seminars are held on the last Friday of every month
from 4:00 pm – 4:50 pm.
Contact
For questions about this speaker series, please email:
Dr. Rossitza Marinova, PhD, Professor, Chair Mathematical and Physical Sciences at rossitza.marinova@concordia.ab.ca; or
Dr. Isha Katyal, Director, Innovation and Industry at isha.katyal@concordia.ab.ca.