Go back to news
Congratulations Keely Cronin!
Posted on: Dec 14, 2021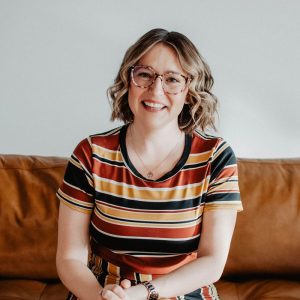 Starting Jan, 1, 2022, CUE has a new associate vice-president, Student Life and Learning: Keely Cronin. Congratulations Keely!
Keely has a PhD in English Literature from the University of Waterloo, an MA from Queen's University, and a BA from CUE. She's taught undergraduate English courses and worked as a writing centre advisor, career coach, learning accommodations advisor at the University of Alberta, the University of Waterloo, and CUE. She's also been the director of Student Life and Learning here at CUE since November 2017.
This new role as associate vice-president means Keely will work alongside the vice-president, Student Life and Learning to support the ever-expanding academic, wellness and mental health supports we provide to CUE students, including Career Services, Housing Services, Learning Accommodations Services and Learning Services.
"I'm looking forward to the position because Student Life and Learning at CUE has seen some exciting expansion over the past few years and I hope I can continue to advocate for and support our students in this position," said Keely.
"Keely cares deeply about students and as associate vice-president, Student Life and Learning, she will continue to ensure CUE delivers excellent supports and services," said Barb van Ingen, vice-president, Student Life and Learning. "With her dynamic personality, Keely invests in those around her, and positivity facilitates success."