Go back to news
Concordia wins major Psychologists' Association of Alberta award
Posted on: Aug 16, 2016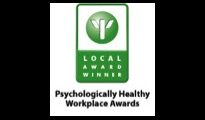 Concordia University of Edmonton is the proud recipient of the Psychologists' Association of Alberta's 2016 PAA Psychologically Healthy Workplace Initiative Award. The award is presented to organizations that best exemplify current, practical initiatives that are directly related to employee wellness and engagement.
Examples of various initiatives are:
implementation of policies to improve work-life balance
initiation of programs for employee growth and development
employee recognition programs
delivery of stress reduction programs
promotion of health and wellness
Concordia has been recognized for our commitment to programs and policies that foster employee health and well-being while enhancing organizational performance and productivity.
The PAA's selection committee has recognized Concordia's initiatives to create and sustain a healthy work environment. As part of the application process, the employee questionnaire had a good rate of return, and the scores confirmed a perception that people at Concordia find it a good place to work with a positive environment and supportive practices and policies.
The PAA will announce our success in their PAA newsletter, Psymposium, and work with us to facilitate media recognition of this achievement. They have also offered to present us the award either at a ceremony of our own or at the PAA's next biennial forum, 'PAA Connects 2017' next May, when they will be showcasing the award winners.
Concordia's administration would like to thank and recognize the hard work of Philipa Hardy in Career Services. Philipa applied for this award, and guided us through the process, helping to ensure a successful conclusion. We are truly grateful.