Go back to news
Concordia University of Edmonton congratulates Stephen Mandel
Posted on: Mar 2, 2018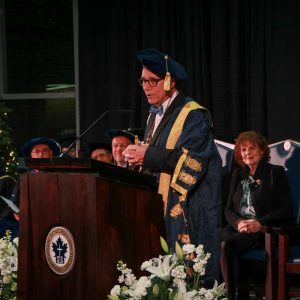 Concordia University of Edmonton congratulates Stephen Mandel on being elected as leader of the Alberta Party. He has been a strong and committed leader in Alberta in many roles, including his most recent role as Concordia's Chancellor.
While the role of the Chancellor is largely ceremonial in nature, with duties including the conferring of degrees at convocation, it is a non-partisan and non-political role. The Chancellor represents the University and advocates in the best interests of the University in the external community.  The Chancellor also sits on the Board as a voting member.  As such, Concordia's Board of Governors and Stephen Mandel recognize that at this time he cannot fulfill his commitment as Chancellor, and he will be taking a leave of absence from this position.  In the interim, the Vice-Chancellor and President of the University, Dr. Tim Loreman, will assume his duties.
Stephen Mandel and his wife, Lynn, have supported Concordia University of Edmonton in many ways over the years. For its part, Concordia was very proud to acknowledge Dr. Mandel as the recipient of its first honorary doctoral degree in 2014.
We wish Stephen every success in his new role and look forward to working with him again in the future.