Go back to news
Concordia University of Edmonton and Covenant Health announce an exciting new research MoU
Posted on: Dec 2, 2016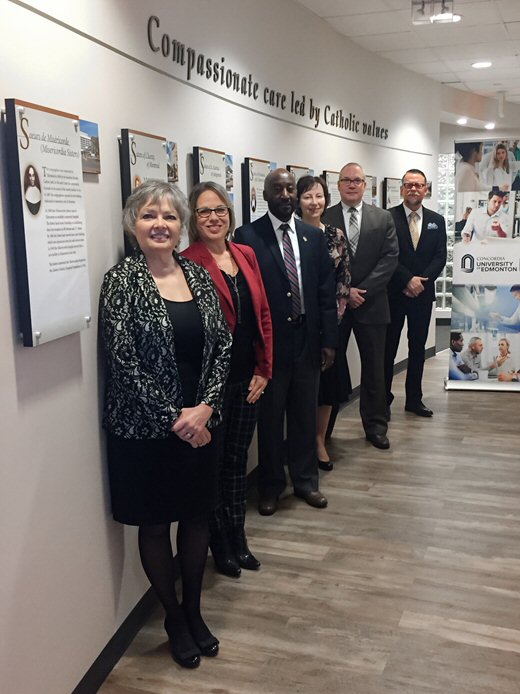 EDMONTON, ALBERTA–(Marketwired – Dec. 2, 2016) –
Editors Note: There is a photo associated with this press release.
Concordia University of Edmonton (CUE) and Covenant Health will be working together to establish a collaborative research program relating to the environmental and psycho emotional health of children.
"We are so blessed to embark on this new relationship with CUE. Research is the pinnacle of influencing practice from evidence and engaging with an academic partner that shares interests aligning with our work is truly wonderful. While this is the beginning and the agreement considers only one area of expertise, we hope to expand our connections over time. Knowledge translation from research to practice is key in improving health of our communities in which we serve, embracing innovative ways of 'thinking and doing' supports our staff and physicians and students to provide leading edge care. Aligning with our strategic directions, it is relationships such as this that will enable us to 'design, implement and share high performing systems of care and service based upon integration, innovation and evidence' and thereby help us to achieve our vision."
– Sheli Murphy, Senior Operating Officer, Rural Health, Professional Practice, Research and Libraries.
The agreement will boost a range of research and collaboration activities based on the further validation of existing environmental health tools, the development of emotional overlays for inclusion with these tools, and the creation of home assessment tools. The research activities will also include the development of ongoing education and certification programs to transition the knowledge gathered to the clinical and researcher communities for practical use.
Manfred Zeuch, CUE's VP International and Research, is pleased with the agreement: "We are excited about this cooperation agreement, which is the first to be signed with the assistance of the CIAR, and which echoes CUE's mandate: to foster meaningful partnerships in Edmonton and area, that bring solutions with the view of enhancing general social wellness and building a strong community. The CUE professors involved in this collaboration are active researchers in the areas of Psychology and Public Health. This partnership with Covenant Health will surely strengthen the directions undertaken."
Covenant Health is Canada's largest Catholic health care organization with over 14,000 physicians, employees and volunteers serving in 12 communities across Alberta. A major provider in Alberta's integrated health system, Covenant Health works with Alberta Health Services and community partners to positively influence the health of Albertans through a broad range of programs and services. www.covenanthealth.ca
Concordia University of Edmonton offers over 45 majors and minors as well as two after-degree programs, three master's degrees and several graduate certificates and diplomas. It recently launched the Centre for Innovation and Applied Research (CIAR) – formerly known as the Edmonton Institute for Community Research (EICR) – which acts as its community-friendly coordinating hub, enhancing access to the academic and student research talents in the applied research, information access, project collaboration, and business incubation services of CUE's Faculties of Arts, Education, Management and Science. www.concordia.ab.caresearch.concordia.ab.ca/ciar
To view the photo associated with this press release, please visit the following link: www.marketwire.com/library/20161202-cuecovenant1202px800.jpg.
Left to right: Sheli Murphy, Senior Operating Officer, Rural Health, Professional Practice, Research & Libraries, Covenant Health; Lynn Klein, Director, Professional Practice – Research & Libraries, Covenant Health; Dr. Patrick Kamau, Director, Centre for Innovation and Applied Research and Dean of Science, CUE; Mary-Ann Clarkes, Manager, Covenant Health Research Centre; David Burry, Manager, Centre for Innovation and Applied Research, CUE; Dr. Manfred Zeuch, Vice President International and Research, CUE.
CONTACT INFORMATION
Concordia University of Edmonton
Sarawjeet Panesar
Marketing & Communications Specialist
780-491-5004
sarawjeet.panesar@concordia.ab.ca
www.concordia.ab.ca
Covenant Health
Karen Diaper
Senior Advisor-Communications
780-735-7321 or C: 780-905-0219
karen.diaper@covenanthealth.ca
www.covenanthealth.ca