Go back to news
Concordia Symphony Orchestra presents
Posted on: Nov 9, 2021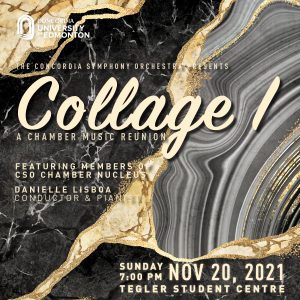 COLLAGE: A CHAMBER MUSIC REUNION
Featuring the Concordia Symphony Chamber Nucleus
Danielle Lisboa, conductor/pianist
Saturday, November 20 at 7:00 p.m.
Robert Tegler Student Centre
Concordia University of Edmonton
7128 Ada Boulevard, Edmonton
We've been craving this moment since our last concert together on March 1, 2020. CSO is kicking off the 2021-2022 season on Saturday, November 20 at 7:00 p.m. in Tegler Centre with a special chamber music concert entitled "Collage I". The launching of our Chamber Series features members of the Concordia Symphony Chamber Nucleus and conductor/pianist Danielle Lisboa in a variety of small ensemble settings and repertoire.  A reunion of friends, 20 months in the making, and you are invited to celebrate this exciting moment with us.
The orchestra's first post-pandemic concert will take place on Sunday, December 5 at 3:00 p.m. starring soprano Krista Mulbery in Berlioz's nuits d'été and we are warming up the engines!
A very limited number of seats are available and reservation, indoor masking, and proof of vaccination will be required from all audience members (individual table seating arrangement in Tegler). 
Admission to this special concert is by donation. To reserve your spot, please register at Eventbrite.
For more information or to arrange an interview, please contact
Danielle Lisboa at danielle.lisboa@concordia.ab.ca