Go back to news
Concordia jointly sponsors successful NMUN
Posted on: Dec 1, 2017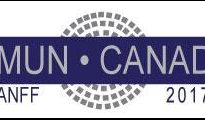 From Monday November 20 to Friday Nov 25, 2017 over 250 students from across Canada and the United States and as far away as Italy, Germany, the Philippines, Japan and China gathered in Banff for the NMUN Canada conference. The meeting simulated the work of four UN committees and agencies and addressed issues as varied as child soldiers, sustainable development goals and indigenous peoples and protecting the environment in areas of armed conflict.
The conference, jointly sponsored by CUE and the National Model UN, also included opportunities for students to see first hand the beauty of Banff and learn about our indigenous peoples, their cultures and the challenges they face.
Concordia alum Kelsea Gillespie served as Secretary-General and lead organizer assisted by Roger Tseng of NMUN as Deputy. A team of CUE and MacEwan students also provided valuable volunteer assistance. A number of CUE faculty and special guests from Brazil also participated in panels and discussions at the event.