Go back to news
Concordia Concert Choir Presents "May I Be Still"
Posted on: Nov 29, 2019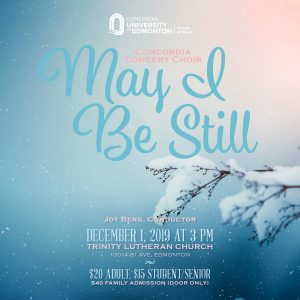 The Concert Choir serenades you this Sunday! December 1, 3 pm at Trinity Lutheran Church (10014-81 Ave.).
Asian accents flavour this season of reflection and joy as the Concert Choir prepares for a spring tour to China. In May I Be Still Canadian and Chinese repertoire focus on the earth and how we live in it, the human community around us and how we respond. Highlighted are singer Gina Friedriech's hymnic text Northern Hymn and thoughts from Javney Carmelle Mohr's beautiful extended poem Amhain Cor in a setting by Mark Sirett.
Come hear how the birth of Christ affects the here and now, the place and people among whom we dwell. You will be treated with carol-singing as you enter and hot apple cider as you depart!
The Concert Choir, directed by Joy Berg, is comprised of 30 auditioned singers of university age from various disciplines and interests.
Free ticket for Concordia students, faculty, and staff available from Jennifer in A304. Additional tickets ($20/$15) available from the Bookstore, Tix on the Square, or at the door. Special Family Admission: $40 (available at the door only).