Go back to news
Concordia Concert Choir Concludes Fruitful Tour
Posted on: May 9, 2019
After four days of white skies, rain, and even blizzard-like conditions in northern Alberta, the Concordia Concert Choir finally saw the sun on its way back to Edmonton Sunday. A fitting conclusion to the ironically named "When the Sun Comes" tour! The Choir sang for the communities of Westlock, Slave Lake, Dawson Creek, Grande Prairie, and Valleyview before the home concert in Edmonton.
First came short concerts at the elementary and high schools in Westlock, where a total of about 400 students and teachers were very appreciative, and local media covered the appearances. 
Next, chorister and Slave Lake native Shanika Adamkewicz provided an insider's introduction to the town, the impact of the fire, and the "bear trails" (closed each spring once the first rambling bear appears). She also arranged a tour of the Native Friendship Centre, which offers a range of resources to local indigenous communities. An impromptu rendition of Stephen Chatman's poignant "Remember" brought some of the elders there to tears—and to the concert later that evening. Pastor Blessing Shambare of St. Peter Ecumenical Church reminded the audience of Concordia's generous donations following the fire, and was among those intrigued by the healing and growth a community choir might offer the area.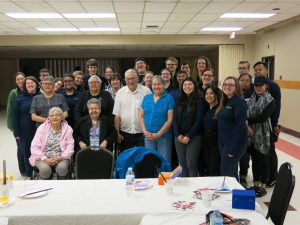 A stop at Mile Zero of the Alaska Highway (at both markers, ¼ mile apart) was a highlight of the visit in Dawson Creek, as were the town's murals and exhibits evoking the urgent 1942 construction project. A third was the wonderful audience and generous hospitality of St. Paul Lutheran, including burgers flipped under the heavily falling snow.
Grande Prairie's Heritage Discovery Centre offered an engaging glimpse into the fossil record, resources, and settlement of northern Alberta. And Concordia/Concert Choir alumnus Rev. Scott Brayall (2014) was especially delighted to welcome the group to Faith Lutheran!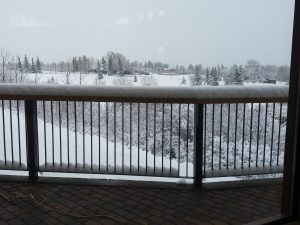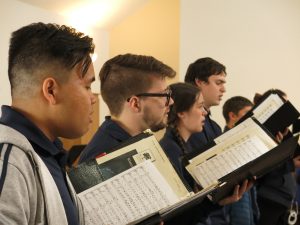 The next day Concert Choir conductor Jordan Van Biert and multi-talented accompanist Laura Hawley led an afternoon workshop (video snippet here) with the Valleyview Community Choir and the St. Stephen School Choir. The event provided an enthusiastic connection with the groups, and a springboard for the partnership in the local concert that evening. Facilitating the visit were parents of former Concordia students Rebecca Hatch (mom Barb was the host conductor) and Micah Steinke (father Gerry organized the meals).
A final collaboration awaited at the home concert: the 18 Edmonton Catholic School District singers participating in the inaugural ECSD/Concordia Dual Credit Choral Course performed with the choir on two pieces. It was a brilliant end to a fruitful tour.
And promising seeds for the future!

—
Members of the Concert Choir reprise a couple of pieces Friday at the grand opening of the Allan Wachowich Centre. See you there!