Go back to news
Coming Soon: Multi-Factor Authentication (MFA)
Posted on: Nov 2, 2021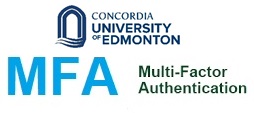 In the interest of helping to protect your information, CUE's systems, and your identity, Concordia University of Edmonton will begin requiring all employees to use Multi-Factor Authentication (MFA) to protect their CUE login account starting in December.
What is MFA?
MFA, sometimes referred to as 2FA (two-factor authentication), is the process of providing additional identification when logging in into your account. When logging into CUE's web-based services (starting with email, Online Services, and Moodle, with more to come in the future), you will need to provide something that you know (your password), and something that you have (your second factor: a PIN code generated by your phone or a keyfob, for instance).
How does it protect me?
MFA protects you by adding an extra layer of security when logging in to your account. With the extra layer of protection, unauthorized access to your account will be less likely to happen because would-be hackers would need to have your password and phone (or hardware key) to be able to access your account. If your password was compromised in a phishing attack, or leaked as a result of another website being breached, a would-be attacker will not be able to compromise your account using only your password.
This step will have the additional benefit of reducing our dependence on short-lived passwords for account protection. As a result, once this requirement comes into effect, we will also be increasing the password expiry duration from 60 days to 1 year. No more changing your password every two months across all of your devices!
Documentation on how to set up MFA for your account is available here. We encourage you to set up MFA as soon as possible — the process is straightforward, and we are happy to help if you have any questions during the process. In addition, we will be announcing workshop-style sessions in the coming weeks where you'll be able to bring your device and set up MFA with IT's support.
If you need additional assistance, please contact helpdesk@concordia.ab.ca