Go back to news
Centre for Chinese Studies kicks off Chinese Teacher Summer Seminar
Posted on: Jul 5, 2017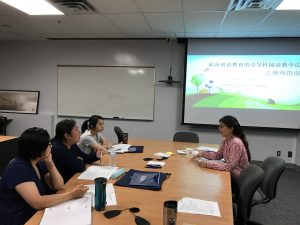 The CCS (Centre for Chinese Studies) is excited to announce that the 2017 Chinese Teaching Summer Seminar was officially kicked off on July 4.
The two weeks Chinese Teaching Summer Seminar is an intensive professional development summer course which is designed for teachers and researchers in teaching Chinese to speakers of other languages.
One of the CCS Missions is to conduct professional development on Chinese linguistic study, assessment, pedagogy and leadership for language educators in Alberta and in the world, enabling them to adapt to the 21st century international teaching environment as high-level, practical, versatile and talented teachers.
Participants in the 2017 Chinese Teaching Summer Seminar came from CBE (Calgary Board of Education), Mount Royal University, EPSB (Edmonton Public Schools) and CUE. They will have the opportunity to engage in and learn from the lectures and discussions in the morning regarding theory and best practices in Chinese vocabulary acquisition and teaching, Chinese teaching curricula and methodology, as well as Chinese bilingual education and Chinese language credentials.
The workshops in the afternoon will be interactive and engaging, where a range of popular topics related to Chinese vocabulary and methodologies will be explored.