Go back to news
Celebrate Pride from the comfort of your own home!
Posted on: Jun 3, 2021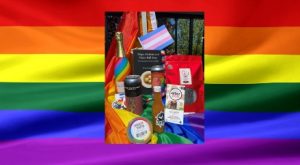 Join us in celebrating Pride Month with a specially designed pride-themed package to help celebrate the diversity, resiliency, love, and empowerment found within our LGBTQ2 and allied communities.
MacEwan Centre for Sexual and Gender Diversity and deVine's Wines & Spirits have created a unique way for you to celebrate Pride@Home. Each pride package features a variety of delicious and delightful items donated by local businesses and craft makers.
There are 2 package selections to choose from: Boozy and Fizzy. The Boozy package features a selection of adult beverages, snacks, sweets, and fun-filled pride items. The Fizzy package includes craft sodas, Cookies by George, treats, and pride-themed items.
Do not delay in pre-ordering as quantities are limited to 75 Boozy and 25 Fizzy packages and first come first serve. Pride@Home packages are $50.00 each + GST. *There are no substitutions of package content. All proceeds will be donated in support of the MacEwan Centre for Sexual and Gender Diversity which collaborates with CUE Wellness on events throughout the year. 
To find out more and to order a kit, click here! Supplies are limited, so be sure to get yours soon!
Questions? Contact wellness@concordia.ab.ca