Go back to news
Campus Recreation – Winter 2021 Information
Posted on: Jan 14, 2021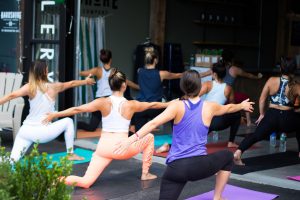 With 2021 now upon us and spring right around the corner, the Department of Athletics & Recreation is pleased to continue offering virtual fitness classes three times a week for our students, staff, and faculty! See below for class schedules along with other information pertaining to fitness around campus.
Campus Recreation Fitness Class Schedules – starting Tuesday January 19, 2021
Tuesdays – 12:15 – 1:00 PM – Zumba
Wednesdays – 12:00 – 1:00 PM – Yoga
Thursdays – 12:15 – 1:00 PM – Fitness Classes
** Note the time change from the Fall semester.
Classes will change up each week, but the new times will be in effect until April. Weekly schedules and Google Meet links will be posted weekly here at www.gothunder.ca, Inside CUE, and also on the CUE Athletics social media accounts (@CUE_Athletics) every Monday.
Fitness Centre to Remain Closed for Winter 2021 Semester
Due to the continued spread of COVID-19, the CUE Fitness Centre will remain closed for the Winter 2021 semester.
Down Dog App
Can't make a campus rec class and still want to get that workout in? Try the Down Dog app (https://www.downdogapp.com/) which is now free until July 2021. Class offerings have changed a bit and now include Yoga, HIIT, Meditation, Barre and Prenatal Yoga.
Yoga Beyond the Mat – Class Offered Through the Office of Extension & Culture
Interested in taking a class beyond the mainstream understandings of yoga? The Office of Extension & Culture is offering a class that may be of interest to you. You can find additional information at https://concordia.ab.ca/external-affairs/office-of-extension-and-culture/extension-programs/yoga-beyond-the-mat/.
** This is a non-credit class. Fees may apply.
—
Should you have any questions, please do not hesitate to contact Joel Mrak, Director of Athletics & Wellness, at joel.mrak@concordia.ab.ca.
(Photo Credit: Dylan Gillis va Unsplash)