Go back to news
COVID-19 Update: Classes and On-Campus Activities Cancelled
Posted on: Sep 16, 2021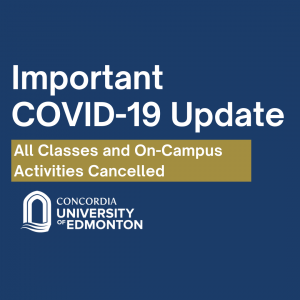 This evening, the Government of Alberta declared a State of Public Health Emergency and announced a number of new restrictions aimed at combatting the further spread of COVID-19. These restrictions will have a major impact on our operations at Concordia University of Edmonton (CUE).
All classes and activities on campus for September 16, 17, 18, and 19 are cancelled and campus is closed.
We have been informed that post-secondary institutions are considered businesses, meaning the restrictions announced today, and the Restrictions Exemption Program, apply to our campuses. Our leadership team is meeting in the morning and we will provide an update as soon as we can.
Our advice to members of our campus community is simple: Get vaccinated as soon as possible. If you are not vaccinated, you may find your access to campus restricted in the near future.
Also effective immediately: 
 All employees who do not need to be on campus should work from home. Please reach out to your supervisor to discuss options.
The fitness room is closed and there will be no public access to the gymnasium until further notice.
Magrath Mansion is closed.
CUE social gatherings, both indoor and outdoor, are cancelled.
Our masking rule, which is also a provincial and municipal law, remains in place for everyone except for those working alone in individual workspaces. Masks enable us to continue to keep our campus open and wearing them is mandatory. Our requirement that all student athletes and those participating in performances need to be fully vaccinated means that they can continue to practice as per the 'Restrictions Exemption Program'.

Our administration has been discussing and working on the issue of implementing a vaccine mandate for the Winter 2022 semester, and we had expected to make an announcement this Friday. Today's news may delay that announcement as we work to determine our immediate path forward.

Please check your CUE email regularly for updates. We will share more information as soon as it becomes available. Thank you for your continued patience, understanding, and support.