Go back to news
Café CIC Cheeses of the World
Posted on: Nov 23, 2022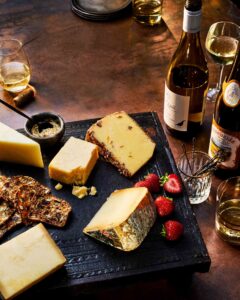 Enjoy an evening of cheese and chemistry with Dr. Paul Jelen, Professor (Emer.) of Food Science & Dairy Technology at UofA.
If you are a cheese lover or want to learn more, here is a chance to find out why milk is nature's most perfect food and the different varieties of cheese it can produce. The conversion of milk to curd will be briefly discussed, along with aspects of the ripening and manufacturing phases.
With emphasis on cheese tasting – contrasting tastes and textures of various cheese varieties will be illustrated, and the effects of various technological treatments, microbial populations used and enzymatic changes.
---
Taste cheeses of the World with Café CIC
Where: Concordia University of Edmonton in TEGLER
When: December 6th, 2022
Networking: 6:30pm & Chemistry of Cheese: 7pm-9pm
Fee: $10 for Students, $15 for CIC Members, $20 for Non-Members (includes a glass of wine)
To RSVP please email Lucio at GelminiL@macewan.ca