Go back to news
An Update on Convocation
Posted on: May 12, 2021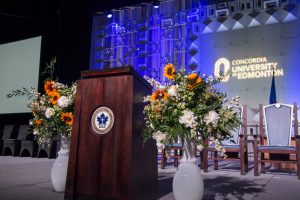 On May 11, 2021, Concordia University of Edmonton was advised by Alberta Health Services that our planned drive-in convocation ceremonies (scheduled to take place between May 28 and 30, 2021) cannot proceed at this time and must be rescheduled to a later date. 
We know this is disappointing—we are disappointed too. However, we remain committed to hosting an in-person, drive-in celebration for our Class of 2020 and Class of 2021 later this summer or early this fall. Convocation will happen—it just can't happen right now. Throughout the planning process, our priority has been protecting the health and safety of our graduates, their loved ones, and our employees. While these are extremely difficult circumstances, we know that this is the right decision for our community and province, and we look forward to celebrating together when it is safe to do so.
To our graduates: You have demonstrated incredible resiliency, strength, and character in the face of disappointment and uncertainty. The past year and a half has been challenging and, somehow, you have risen to every occasion, and remained committed to excellence and making a positive impact on the world. We are proud of you and are looking forward to celebrating your achievements in the near future.
We will be sharing more information, including our new convocation ceremony dates, as it becomes available. In the coming weeks, May 2021 graduates will receive their convocation packages in the mail (parchment, hood, and cord if applicable). Please ensure your current mailing address is correct in Online Services before May 19, 2021.
More information about picking up your cap and tassle, if you have not received them, will be shared closer to the date of the in-person convocation ceremonies.
The ongoing pandemic has disrupted our lives, and we recognize that this update may generate negative feelings or intensify existing challenges. Your mental health and wellbeing are important to us. Please know that we are here for you and would encourage you to reach out to Counselling Services or a Peer Supporter to receive free, confidential support. Additionally, if you are in immediate distress, please call the 24-hour Distress Line at 780-482-HELP (4357).