Go back to news
Almost, Maine Final Weekend
Posted on: Nov 9, 2018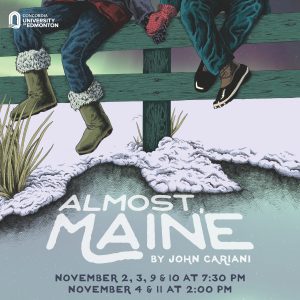 Join us this weekend for John Cariani's heartwarming look at love.  Shows are tonight and Saturday at 7:30 and Sunday at 2
Concordia University of Edmonton's THEATRE AT CUE announces their first production in the 2018/2019 academic year: ALMOST, MAINE by JOHN CARIANI. Assistant Professor GLENDA STIRLING directs this play comprised of nine short scenes that explore love and loss. Almost, Maine runs NOVEMBER 2 – 11, 2017 at the AL AND TRISH HUEHN THEATRE .
Faculty and Staff can purchase tickets at the door or in advance from student accounts.
More about the show:
Almost, Maine showcases nine couples navigating different stages of love and life over the course of one magical winter night. With a quirky cast of small-town characters, we experience falling in and out of love, navigating change, heartbreak and hope. In a town where everybody knows everybody (or thinks they do) and expecting the unexpected is a way of life, finding and nurturing love remains the most magical journey of all.
"It's a romantic comedy that showcases love in all its states; young, old, passionate, and platonic. Each couple's story has a touch of magic and is set under the beauty of the Northern Lights," says director GLENDA STIRLING.
ALMOST, MAINE features eighteen student performers and production crew from the Concordia Community including: Bradley Gamborski, Evelyn Wei Yi, Preston Gray, Katie Belitsky Rohan Sample, Alixx Tanner, Kaitlyn Knodel, Naomi Aerlan, Riley Frazier, Connor David Middleton, Teagan Kamstra, Chelsea Magnusson, Tyson Goudreau, Teneil Whiskeyjack, Melissa Pratt, Aidan Goodall, Kaeli Mask, Joel Dinicola, and Dorean I-Yusuf.
The sound design is by music major PRESTON GRAY who composed and conducted the music for The DADA Play in our 2017/2018 season. BETTY KOLODZIEJ, head of costumes for Opera Nuova, returns as costume designer. The production design is by Concordia's multi-talented Technical Director and Resident Designer, JOSIAH HIEMSTRA. The show is stage managed by STEPHANIE ST ONGE and Assistant Stage Managed by KENYA BEAN. CUE student DARIAN KING is the assistant director, and student ZACHARY DesROCHES is the Acting Coach.
Tickets are available at Tix-on the Square, and at the door.
$20.00 Regular | $15.00 Students & Seniors. Group pricing available on request.
More information: https://concordia.ab.ca/arts/departments/fine-arts/drama/drama-productions/
Friday, November 2 at 7:30pm
Saturday, November 3 at 7:30pm
Sunday, November 4 at 2:00pm
Friday, November 9 at 7:30pm
Saturday, November 10 at 7:30pm
Sunday, November 11 at 2:00pm