Go back to news
Academic Regalia Rental Information
Posted on: Mar 9, 2020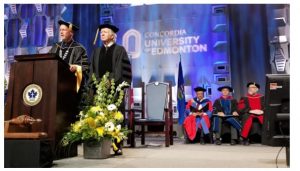 If you are a faculty member who plans on taking part in the 2020 Convocation Ceremony but needs to rent Academic Regalia, please place your request through the online request form.
Please note: There is a rental fee associated with a request that is the responsibility of the faculty member.
If you have any questions about renting, kindly contact Wendy Jensen, Administration Assistant to Student Life and Learning at wendy.jensen@concordia.ab.ca.