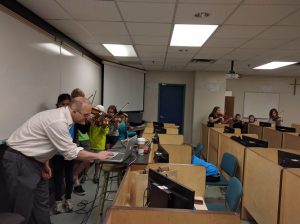 This session is designed to introduce students to the realm of digital technology and its boundless opportunities for creation and improvisation. Students will be invited to freely explore and create sounds, melodies and patterns by using simple non-notational music software to represent their musical ideas.
Sessions will introduce students to using microphones and computers to process musical instruments live. Students will record the results and arrange the recorded improvisations to be part of further live performance.
While improvising, the students will use effects including reverb, delay, pitch-shifting, vocoding and looping, and are encouraged to adapt and expand their musical creativity to the subtle and radical changes these effects make to the sound of their instruments. The improvisations are recorded and re-incorporated into further improvisation over the course of the sessions.
The students will learn about microphone use and basic audio theory. The two audio software applications used are Ableton Live and Audacity. The powerful open-source audio application Audacity allows for audio editing, manipulation, and has a simple graphic interface. The resulting recordings are made available to the students for their own experimentation and creativity will be made available to students who can use Audacity to edit and remix their improvisations. Audacity is available for free on both Mac and PC platforms at http://audacityteam.org/.
The emphasis of the Composition and Digital Media session is on storytelling and emotion. What does this sound like? How does it make you feel? What kind of story does it tell? Through this exploration we can expand young musicians' horizons into the artistic possibilities of composition and to nurture creative expression.
The daily Stringendo sessions provide a variety of activities involving all campers with emphasis on outdoor games (weather permitting).
Led by the camp counsellors, these activities are designed to promote social interaction among campers through physical activity and teamwork.
This session is intended to introduce the basic rudiments of music through play. Through puzzles, music games and workbooks will develop their understanding of topics such as pitch, meter, scales and intervals. The delivery of course content will be tailored to string players conceptually and will include orchestral terms and bowing terminology.
Graded levels will be assigned by proficiency in music theory and age. Group activities will be conducted by student leaders and supervised by an instructor.
Intended to provide an introduction to the fundamentals of music these sessions will help students to develop into a complete musician by enhancing their ability to perform with musical understanding.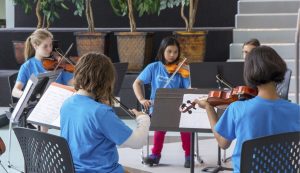 The Chamber Ensemble sessions will offer campers opportunities to study selected repertoire under an instructor's guidance. Campers will be placed in chamber ensembles according to their playing abilities and age. Campers will be invited to contribute in the group decisions concerning all aspects of performance, including: tempi, dynamics, phrasing, blending, articulation and style.
Playing chamber music promotes collaboration. In Chamber Ensembles students will be encouraged to explore different viewpoints and open-minded receptivity to multiple ways of interpretation as campers co-create a performance. They will be encouraged to learn constructive ways to express ideas and suggestions to peers, and learn to receive feedback from peers in constructive and productive ways.
Students will experience daily listening sessions intended to promote appreciation of a wide range of musical ideas and expressions.
Through an in-depth guided analysis of selected repertoire, students will be encouraged to develop their own response to novel musical idea, and explore a variety of ways to express their response. Students will be encouraged to express their responses through a variety of media: Dance, Drama, Visual Representation, and Musical Performance.
At Stringspiration, students will be encouraged to participate in activities that involve acting and storytelling as a means to develop interpretive skills.  Later, they will be encouraged to represent the story in actions. The group will discuss how their interpretation would affect performance, choice of tempo, forms of delivery, dynamic, accents and mood.
The Dynamic Hearing sessions are fun and playful activities that aim to encourage students to be open to a wide range of expressive possibility and to cultivate an awareness of individual expression and to foster the delivery of original interpretations in young musicians.
Masterclasses provide an opportunity for students to improve their playing and performance, learning from a recognized and prominent performer.
In a masterclass, selected students will perform and receive instruction from the visiting artist in a public class. The auditing students observe and are encouraged to consider ways in which the instructor's advice can be applied to their own playing and technique. The masterclass setting allows many students to benefit from the experience, perspective and detailed instruction of a master performer.
There are two ways to participate in a Masterclass:
1. Performer: students may elect to prepare a work to present for the visiting clinician. They will then receive a session of personalized instruction from the clinician. Due to time constraints, it is possible not all performers will be selected to present a piece. Performers will be selected to ensure a variety of pieces, styles and abilities can be presents, to improve the learning potential for all students.
2. Auditor: students will have the opportunity to advance their knowledge and skills through observation of their peers and the clinician's comments. Students will be encouraged to respond buy considering ways in which the clinician's comments, concepts and technical instructions can be applied to their own performance.