Go back to news
Women's Basketball Get Sweep on Northern Road Trip
Posted on: Oct 31, 2016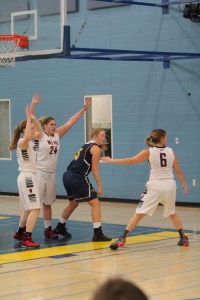 The Thunder Women's Basketball took their first major road trip of the season this past weekend, taking on the Keyano College Huskies in Fort McMurray. After the previous weekend, the lady hoopsters were looking to bounce back into the win column in the ACAC North division. "It's always tough to play after these long bus rides. We needed to get adjusted quickly both mentally and physically," opened Coach Valpreda. "The Huskies have a very good roster and come in with a 3-1 record. This was their opening weekend at home and we needed to match their intensity."  The Thunder would finally settle in and take the halftime lead, 37-32.  In the second half, the Thunder came out scoring in bunches, putting up 25 pts in the 3rd quarter. "We got our legs back and we were focused in on what we came here to do."  The Thunder had key contributions from Sofia Luccadello 19pts, Ann Stewart 14pts and Morgan Dool who had 14pts. The Thunder went on to win the game 74-61. The Player of the Game was Nakita Newman with 20pts.
The Saturday game was a matinee affair, tipping off at 1pm. This was an adjustment for the Thunder, needing to do a quick turnaround from the evening before. Concordia came out of the gate with some mental mistakes on both ends of the floor. "Being on the road is difficult, especially as it is new to some of our players. However, we cannot use that as an excuse for poor play and we needed to get our minds right to perform right."  The Thunder took some time to settle in before they started to take the lead on the court. The Huskies were not going to back down on their home court and battled with the Thunder every possession. Going into the half the Thunder were leading 34-28. "We can't be content with a single win. This is a long season we have to be hungry and prove to ourselves how good this team can be," stated Valpreda. The second half opened with the Thunder looking much more poised and patient as they opened up leads as high as 18 points over the Huskies, with everyone on the court contributing to the eventual 78-63 victory. "This was a team win today. Every player – no matter who it was or how long they were on there – helped our team win today."  Player of the Game honours went to Morgan Dool who had 16pts and 4rebs in the contest.
The Thunder will now return for a two game home stand this coming weekend when they will host the Grande Prairie Wolves.  Game times are 6 PM Friday and 1 PM on Saturday.