Go back to news
Wireless Noise-Cancelling Headphones
Posted on: Oct 27, 2021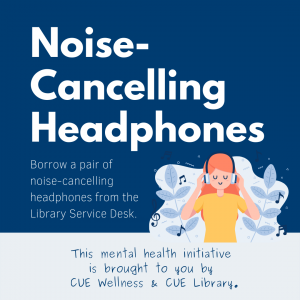 CUE Wellness and the library have partnered together to provide more resources for campus mental health.
Our loanable headphones are perfect for concentrating while studying or working. Students can find quiet study areas on the library's mezzanine, second floor and third floor.
Borrow a pair of noise-cancelling headphones from the Library Service Desk for up to 4 hours at a time.
Curious about other wellness initiatives on campus?