Go back to news
"Why Help Natural Disaster Victims?" Insightful research awarded SSHRC funding
Posted on: Jul 18, 2019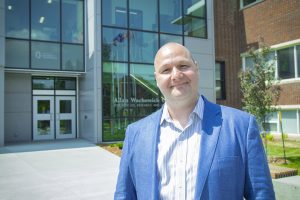 Concordia University of Edmonton is delighted that a SSHRC Insight Grant has been awarded to Dr. Zdravko Marjanovic, assistant professor in our Faculty of Arts.
Dr. Marjanovic's perceptive research is entitled, "Why Help Natural Disaster Victims? How Resources and Situational Pressures Bias Judgments of Responsibility and Reduce the Need to Help." He hopes to be able to explain how personality and situational variables – such as empathy and job status respectively – interact to affect the way we think, feel, and act toward others in need of our help.
"It may give people pause the next time they find themselves judging victims of natural disasters, or the victims of any calamity, too harshly," the Psychology professor explains. "Theoretically, this research affects all people," Dr. Marjanovic goes on to say. "It addresses a set of fundamental, but competing motivations that drive prosocial behaviour."
The federal granting agency announced this year's awards for post-secondary researchers from all over Canada on July 17, 2019. SSHRC's Insight Grants support research that builds knowledge and understanding about people, societies and the world. Their aim is to increase our collective understanding, as well as to inform the search for solutions to societal challenges.
"This research undertaken by Dr. Marjanovic is both ground-breaking and impactful," says Dr. Valerie Henitiuk, Vice-President Academic and Provost. "CUE is proud to have researchers of his calibre on our campus, contributing so significantly to a better grasp of how human beings tick as well as offering world-class training opportunities for our students. Dr. Marjanovic's work greatly enhances the study of Psychology here at Canada's pre-eminent small university and has far-reaching implications, as recognized by this significant award."
Research at Concordia University of Edmonton is also supported by the Research Support Fund, a tri-agency initiative that assists Canadian post-secondary institutions with costs associated with managing research funded by the federal research granting agencies. Concordia University of Edmonton acknowledges the value of this support and appreciates this ongoing research investment.