Go back to news
Wednesday update, August 26, 2020.
Posted on: Aug 26, 2020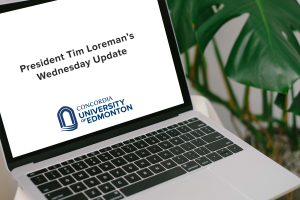 Dear CUE Community,
This is an exciting week as we engage in various orientations and get-togethers, mostly virtually, in preparation for classes that are just around the corner. If you do not routinely check your CUE email, now would be the time to start.
As we know, Concordia is a welcoming, diverse, and inclusive campus and we are taking on a number of concrete and measurable initiatives to help ensure that we stay that way, and further, to improve how we live, work, and study with one another. In order to be definitive about where CUE stands, and provide greater focus and direction for these initiatives, our Board of Governors approved a general statement on inclusion and diversity at our meeting last Friday. This statement is clear about where we stand as a university community, and is now our foremost guiding document with respect to our actions and policies in this area.
Continuing along those lines, I need to follow up on my June 24 announcement that in order to enhance our inclusive learning and work context at CUE we are making a number of up to $500 micro-grants available to continuing employees looking to engage in small projects that enhance our inclusive ethos, practice, and service. These grants are available to staff and faculty wanting to implement inclusive initiatives in their area. Be creative! We have deliberately made the application process simple in order to encourage projects. There is no application deadline, with applications being accepted until funds are exhausted (total fund for this program: $5000).
Some good news from our Drama department. Concordia's fall mainstage production will be going ahead this term, with a bit of a twist: this year's show is going to be created by student participants, under the leadership of director Dave Horak, the new Artistic Director of Freewill Shakespeare. "Too Much Zoom Makes All Of Us Go Blind" will be created over the fall semester, primarily online, with some in-person rehearsals. Dave is looking for student artists of all types to participate – dancers, actors, painters, musicians, unicyclists, you name it. To find out more, check out the trailer on the Drama page of the website where you will also find information about auditioning. Auditions are happening September 7-11, so make sure to sign up soon to get yourself a slot.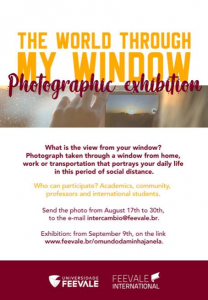 Finally, a little bit of fun. We have received an invitation from one of our partner universities in Brazil, Feevale University, to participate in a photo contest they are running. They are inviting members of the CUE community to send pictures of their lives through a window in an effort to help people feel closer despite the need to physically distance. Anyone can participate. While the poster says "international students" Feevale University is in Brazil. All CUE students are international to them, and are therefore encouraged to participate.
Stay safe, stay home, stay healthy.
Tim Loreman, PhD.
President and Vice Chancellor.