Go back to news
Visiting Scholar from South Korea
Posted on: Sep 5, 2017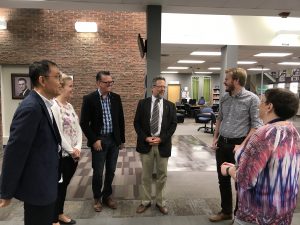 The International Office in collaboration with the Faculty of Arts is excited to announce that we will have a visiting scholar joining us from South Korea for the Fall Term. We are pleased to introduce Dr. Taeun Min. (Dr. Min is the person on the left in the picture).
Dr. Min is a Professor of English at Chonnam University in South Korea. He studied at Sogang University(B.A.) and Seoul National University(M.A.). He received his PhD from Southern Illinois University at Carbondale in 1991. He joined the faculty at Chonnam National University in 1993. He served The James Joyce Society of Korea as the president (2011-2013). His primary field is in modern British literature, and he currently teaches at both undergraduate and graduate levels. Recent undergraduate courses include "Introduction to English Literature," "English Literature Survey II," "British Fiction I," and "British Fiction II." Over the past few years he has also offered the courses, "The Contemporary British Fiction," "The Twentieth Century British Fiction," "Ulysses," and "The Novels of the English-speaking Countries" for graduate students. He is the author of James Joyce's Novel (2001), Joyce's Dublin (2005), and Joyce, Empire, Gender, and Aesthetics (2013). Dr. Min is joining us as part of his sabbatical and while he is here he will be doing research on The aesthetics of Trash in Joyce.
Dr Min is visiting under the hospitality of the Faculty of Arts, English department. Please feel free to greet Dr. Min if you see him on campus!