Go back to news
COVID-19 Update: Implementing the Restriction Exemption Program at CUE
Posted on: Sep 16, 2021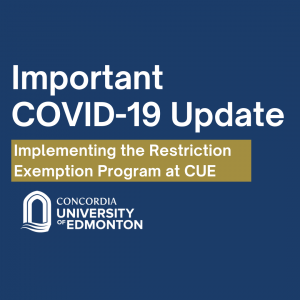 Last night, the Government of Alberta declared a State of Public Health Emergency and announced a number of new restrictions aimed at combatting the further spread of COVID-19. Following the announcement, President Tim Loreman shared that the restrictions would have a major impact on CUE's operations.
CUE will be implementing the Government of Alberta's Restriction Exemption Program to protect the health and safety of our campus community. The program will come into effect on our campus on October 4, 2021, and requires that we only serve those who are fully vaccinated against COVID-19.
What does this mean for members of the CUE community?
From September 20 to October 3, 2021, classes will be held online and campus community members will be able to submit their evidence of vaccination using a secure online portal. Members of the CUE community should avoid attending campus during this period unless their visit is absolutely essential. Please note that residence remains open and Concordia Thunder programs can continue, as all students living in residence and participating in athletics have already provided evidence of vaccination.
Beginning October 4, 2021, CUE will require proof of vaccination (at least one dose); proof of a negative PCR or rapid test if the first vaccine dose was taken less than two weeks prior to October 4; or, documentation of an exemption based on medical or other protected grounds outlined in the Alberta Human Rights Act, in order to attend campus.
After October 25, 2021, members of the CUE community who cannot establish that they have had two doses of approved vaccine, or who have not received an exemption based on a valid medical or human rights-based accommodation, will not be permitted to attend campus.
We anticipate that the secure online portal will be open for students, faculty, academic colleagues, staff, contractors, and volunteers on Monday, September 20, 2021. The President's Office will send out an email with more details as soon as it is ready. In the meantime, please do not email your evidence of vaccination to anyone at CUE.
For more information on the enhanced measures CUE is implementing and to view our frequently asked questions, please click here.