Go back to news
Town Hall Recap: Looking Ahead to 2021
Posted on: Dec 17, 2020
This morning, Concordia University of Edmonton (CUE) held a town hall meeting to reflect on the fall semester, share the results of our COVID-19 Student Impact Survey, and look forward to the winter semester. The town hall featured presentations from Dr. Barb van Ingen, Dr. Daniel Braun, and Dr. Tim Loreman, followed by a question and answer session.
GUIDING PRINCIPLES
To help steer the conversation, and ensure all participants felt safe and comfortable participating in the discussion, we had three guiding principles:
We are open. While it has been nine months since our transition to online learning, we do not pretend to have all of the answers. As a campus community, we are continuing to adapt, learn, and grow as the situation evolves.
We recognize the gravity of the situation. Everyone is coping in their own way, and facing challenges in their personal and professional lives. There is no one-size-fits-all approach to managing the current circumstances.
We are grateful. Despite the current challenges, our team has shown up to make a difference in the lives of our students. We appreciate the dedication of our instructors and staff, and recognize how much time, energy, and work has gone into our virtual and in-person programs and services.
SURVEY RESULTS
The COVID-19 Student Impact Survey was launched on November 24 and was open for data collection until December 8. The survey was intended to learn about our students' overall experience with learning during the fall semester; specific technological and learning challenges; challenges accessing student support services; and experience with, and strategies for, coping with the situation.
In total, we heard from 616 students with the majority being first- or second-year students currently enrolled in undergraduate programs. Of the students who responded, 87% are planning to return in January.
Student Experience
When asked how their overall student experience was with CUE this semester, 58% of students reported it was difficult or very difficult. Their biggest concerns were:
Grades and performing well in class;
Lack of in-person connection;
Instructor availability and responsiveness; and
Missing out on on-campus and extracurricular activities.
Undergraduate students were more likely to express challenges than graduate students; however, the majority of students shared they are planning to return in January. When asked what factors were most important in their decision to return or not return, the top responses were:
Uncertainty about the quality of education they will receive online;
Uncertainty about the future; and
Loss of income or expected income.
Academic Experience
Our academic programs are the most important part of the university experience. Any instructor who is feeling unsure about their course content or design and would like to receive support is encouraged to contact Dr. Daniel Braun.
57% of students who started began their studies prior to the COVID-19 pandemic stated the quality of instruction received in virtual lectures was somewhat worse or much worse, while the majority of students (55%) stated the quality of instruction received in labs was about the same or better than what they received prior to the transition.
The majority of students who began their studies during COVID-19 in a predominately virtual environment felt the quality of instruction received was good or very good in both lectures (66%) and labs (66%).
When asked to share challenges, students expressed concern over a lack of adequate replacements for in-person collaboration and a desire for more communication from instructors. We also head the majority of students are experiencing difficulty focusing (86%), and are struggling with high expectations and not enough time to complete tests and exams (82%).
The majority of students (79%) prefer face-to-face learning and expressed low motivation (81%) to compete coursework in online courses. 
Student Services
Much like our instructors, our student service providers have shifted to a virtual environment to serve our community. The majority of students expressed satisfaction with our student services:
Food Bank (86%)
Career Services (72%)
Internships and Practicum Placements (71%)
Writing Centre (70%)
Emergency Financial Aid (68%)
Counselling (68%)
Tutoring (65%)
Academic Advising (59%)
COVID-19 and Coping
Our students have expressed high levels of concern about the COVID-19 pandemic, and have demonstrated both positive and negative coping skills and behaviours.
77% of students reported being worried about the COVID-19 pandemic and 67% believe they are coping well with the situation.
Our students are worried about the future. Over 90% of students reported career and future-focused services were important to them, such as resume and cover letter support, career coaching, and networking with industry professionals.
While our students are engaging in positive coping behaviours such as acceptance (94%) and receiving emotional support (79%), many students are also engaging in negative behaviours like self-blame (64%) and substance use (31%).
4 in 10 students have applied or are planning to apply for the Canada Recovery Benefit, and 3 in 10 students have applied or are planning to apply for additional loans through the Canada Student Loan Program or other financial supports.
CONSIDERATIONS FOR TEACHING IN WINTER 2021
As part of our town hall, Dr. Daniel Braun, Senior Educational Developer, shared his reflections on the survey for faculty.
Connecting with Students
Our students want to feel the presence of their instructors. Other resources and individuals are great supports but the main instruction needs to come from our faculty for our students to be successful. Focusing on course design can enhance the presence of instructors but regular, synchronous engagement should also be prioritized.
Promoting Engagement
When it comes to personal motivation, there is a lot out of our control; however, we can spend time working on course engagement. When asked about their preferred course-design practices, students stated:
Recorded lectures
Synchronous classes (to see/interact with peers)
Instructor use of a tablet (not a whiteboard)
Instructor flexibility
We also heard students would welcome shorter lectures and the opportunity to have time to work on assignments during designated class time, and that strategies like assigning small reading assignments encouraged students to engage with the course material.
Two interesting tactics that were shared by students as examples of best practices were instructors switching to testing styles that encouraged application rather than memorization, and instructors providing extra marks if students submitted study guides with their tests and exams.
Big Takeaways 
While we are hopeful that we will be able to reintroduce more in-person learning in 2021, we know that it won't be in the immediate future. Instead, we are committed to finding teaching strategies that combine self-directed and active learning while recognizing the impact of COVID-19 on both our students and our instructors. 
Based on what we heard from our students, instructors should think about:
Scaling back content as much as possible;
Avoiding high-stakes group projects;
Refraining from adding additional high- and/or medium-stakes assignments;
Converting exams to assignments where possible;
Reducing, not adding, test material; and/or
Implementing flexible time limits.
For more information or to receive support,  contact Dr. Daniel Braun.
LOOKING AHEAD TO 2021
The final presentation was from Dr. Tim Loreman, President and Vice-Chancellor. Dr. Loreman focused on "reading the tea leaves" and provided his thoughts on what the coming months and years will bring for CUE.
At CUE, we pride ourselves on offering a personalized learning experience. In the past, we had little interest in virtual learning experiences and, in some cases, actively resisted online learning. That is no longer our reality.
When thinking about the future, some will argue that the physical university is dead, while others believe that university education will revert exactly back to the way it was prior to COVID-19. CUE falls somewhere in the middle—while we are eager to return to in-person learning, we recognize that the world has changed significantly over the past nine months and we need to continue adapting in order to meet the needs of today's students, as well as the students of tomorrow. 
WHAT DID COVID-19 TEACH US?
In recent months, we've learned a lot about who we are as an institution and as a community. Here are some of our biggest lessons:
Almost all of our courses can be delivered online.
Some students are uncomfortable with purely online instruction.
The majority of student services can be delivered online.
Building community and a sense of belonging is challenging in an online environment.
Mental health challenges have increased significantly; however, we cannot be certain if this is because of the pandemic, online education, or both.
Much like our students and employees, our campus and physical spaces can adapt.
A blended approach may be in the best interest of our community moving forward. 
WHERE DO WE GO FROM HERE?
The bad news is COVID-19 is going to be a part of our personal and professional lives for months to come. With this, students will expect some form of blended learning in the future.
While there are challenges, this is a big opportunity for CUE. If we act now and invest in blended learning, we can be leaders. We have adopted a more conservative approach than other universities in response to COVID-19 and are committed to continuing to prioritize the health of our community—blended learning will support our students in the short- and mid-term, and help to inoculate us against future disruptions.
CONSIDERATIONS
Our first consideration, as always, is our students. Is blended learning best for them? If yes, it is in our best interest to begin taking a blended approach in 2021.
Another consideration is ensuring we are striving for progress, not perfection. It will take time for us to get blended learning right. There are also a number of implications for our policies and agreements, which will take time to work through
We also need to think about our resources—from space to expertise to tools and supports, we recognize that blended learning is resource heavy. It will also mean changes for our staff, such as flexible work arrangements, to ensure we are finding balance and moving forward together.
CONCLUSIONS
We've often said we are nimble and innovative—this is a chance to prove it. We have been navigating through disruption and uncertainty for many months and this represents a bold path forward.
We are eager to hear from our faculties and staff, and would encourage you to start having conversations about what blended learning could mean for you. Feedback can be sent to the Office of the President.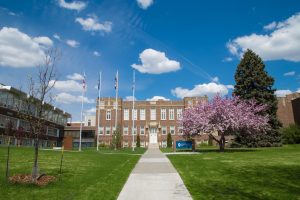 Thank you for your time, energy, and dedication to our students. As we head into the holiday break, please ensure you are taking some time to reflect and prioritize your health and well-being. Here's to a brighter 2021.