Go back to news
Thunder Women's XCR Team Make a Splash at Nationals
Posted on: Nov 14, 2016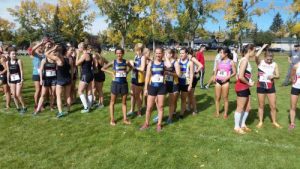 The Thunder Women's Cross Country Running team made the long trek to Sault Ste. Marie in Northern Ontario to take part in the CCAA Cross Country Running National Championships on the weekend.  Second year runners Elise Nawrocki and Baylee Frissell led the way for the team finishing in 32nd and 44th place, respectively, each running new personal best times for the 5k distance in the process.  Third runner and team Co-captain Rachael Smillie was next across the line for the ladies in 56th place while another 3rd year runner Ana Zulic finished in 61st place to round out the scoring for the team.  Both Smillie and Zulic ran their fastest times of the season along with 2nd year runner Bailey Troccoli-Hughes, who finished in 67th place. Rookie Haley Dunwoodie finished in 69th place, also running a new personal best time for the 5k distance.
"To have all of the ladies run their fastest time of the season and half of them ran new personal bests, we couldn't ask much more of them," said Assistant Coach Kristen Hansen.  The Thunder Women finished in 11th place overall out of the 17 CCAA schools that sent teams to the National Championships.  "I'm super proud of these ladies. They worked really hard all season and with most of the team coming back next year, we're just going to get better.  Our goal for next year will be to make it back to the CCAA Championships in Montreal and aim to get ourselves back into the Top 5," vowed Head Coach Matt Norminton.
The ladies will now take a break before getting ready for the Indoor Track season.