Go back to news
Thunder Women's Volleyball Host University Tournament
Posted on: Sep 26, 2016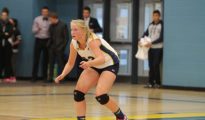 This past weekend the Women's Volleyball team hosted their annual pre-season tournament to start the year off and get an idea of where they are at in the early stages of the season. With four teams participating – Concordia University of Edmonton, Augustana, Keyano and Ambrose, the ladies were able to play three matches over the two days and work on team play, as they have done minimal team play in practice.
On Friday against a very much improved Augustana team, the ladies were ahead in all three sets halfway through but the Vikings applied some pressure and the team lost all three sets with scores of 25-20, 25-22 and 25-16. In Saturday afternoon's match against Keyano College, the ladies continued to improve on their team play and were able to manage a victory with scores of 25-17, 25-21, 17-25 and 25-20. In the night's match against Ambrose – who will be the sleeper pick in the ACAC South Division, the team struggled on their first contact and lost in three with scores of 25-20, 25-17 and 25-16.
Coach Turner's comments from the weekend: "Overall we were pretty pleased with the steps we took in each match. We have been stressing that it is not the results that counted for the weekend but making sure we improve on the skills we have been working on in practice for the first two weeks. It was also a chance to get some of the new ladies into a University-level match so they understand how much different this level is compared to high school and club volleyball. We have a ton of work ahead of us but the group so far has been very good in trying the stuff that we are asking as a coaching stuff, so we are looking forward to the progressions that we will make this year."