Go back to news
Thunder Women's Volleyball Fall to Rustlers
Posted on: Oct 17, 2016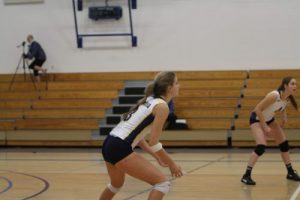 The Women's Volleyball team opened up their 2016-17 season facing the Lakeland Rustlers over the past weekend. As the team continues to grow and develop a solid foundation, they were challenged against one of the top teams in the league and it was a great learning weekend that the ladies will build off of. On Friday, the team struggled with their first contact and the Rustlers capitalized on this and won easily in three sets with scores of 25-11, 25-12 and 25-22. Julia Heupel was selected as the Player of the Match for the ladies.
In Saturday's return engagement, the ladies played much better and had opportunities to control the match but in the end, experience for the Rustlers took over and the team lost again in three sets, 25-18, 25-15 and 25-21.  Shae McDonald was the Player of the Match for the Thunder.
Coach Turner's comments on the weekend – "Right now we have the talent and a group that wants to be successful. What we are lacking is still the mental toughness to respond to pressure that the other team applies during the match. When that happens we make a ton of unforced errors and we struggle to get our mental focus back and that is what I saw from the two matches over the weekend. We had some positive play in spurts both nights but we need to have that consistency to give ourselves a chance and we don't have that, yet. We will continue preparing each day to get to that point that will give us a chance to succeed."
The Thunder face another stiff test this coming weekend when they will face the NAIT Ooks. The home game goes Saturday night at 6 PM at the Ralph King Athletic Centre.