Go back to news
Thunder Women's Volleyball Close out Fall Semester
Posted on: Nov 28, 2016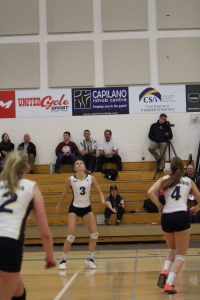 The Women's Volleyball team closed out their first half of play this past weekend hosting a 2 game series against the Keyano Huskies from Fort McMurray. In Friday's match, the ladies started strong but could not maintain the intensity over the course of the match and lost in straight sets with Kayla Whiteman Kyte selected as the Player of the Match. In Saturday afternoon's matinee match up, the Thunder again lacked the intensity and struggled in all aspects of the game, going down to the Huskies in in three sets. Kimi Champigny was the Thunder Player of the Match.
Coach Turner's comments from the weekend: "There were times this weekend that we played some solid volleyball in all aspects of the game but we are not consistent with it and that has been our downfall all semester. We need to find the desire and fight within ourselves and I am not seeing that from every player on this team and that is the disappointing part of the semester. We have talent but we lack the drive from within and we want to make sure that is there in the second half of play in order to succeed at this level."
The ladies will now have some down time to prepare for final exams and then as they did last year, will once again play host to the Canadian National Women's Deaf Volleyball team on December 16th and 17th.